Our "appetizer" program is tempting
We'll tell you right up front--- The 3 MMG models we offer with a 60-day money back guarantee are the marketing equivalent of those tasty little morsels handed out in high-end grocery stores (no restocking fee and Magnepan guarantees refunds). You won't see many Magneplanar ads in audio magazines. They are expensive and they are not as effective as they were 40 years ago. And you won't see Magneplanars at Best Buy or other "big box" stores.
We had a better idea. Now, most consumers do their research on the internet. That's probably how you found us. Or from one of our thousands of happy customers. This MMG, 60-day, money-back guarantee "appetizer" concept has proven more successful than any other marketing idea. Only a very small percentage of customers return their MMG models because they didn't like them. And most eventually move up to our better models. So, warning is fair, you might get "hooked".
Live music creates large area soundwaves having characteristics that can't be duplicated by little box speakers. Soundwaves emanating from live music help us determine "is it 'live' or is it a speaker?" Reproducing large area soundwaves requires a speaker with a large surface area. The Magneplanar MMG with the equivalent surface area of seventy two, 1 -inch dome tweeters, and nine, 8-inch midrange/woofers does this better than speakers costing several times the MMG's modest $599/pair price tag.
Need more bass?
The MMG has the smallest bass diaphragm size of any full-range Maggie. Small rooms need less bass-radiating area than large rooms. If you will be trying the MMG in a medium-to-large room, you may need bass augmentation for full and smooth bass. A subwooofer is one option, but subwoofers can not match the "speed" of a Maggie bass driver.
More bass radiating area is the best solution for larger rooms. The Maggie Bass Panel is the perfect solution. If it doesn't work out in the home trial, it is small and easy to pack up and return to Magnepan.
Adding the Bass Panel converts the MMGs into a 3-way system. Click on the link below for instructions.
How to use the DWM Bass Panel with MMGs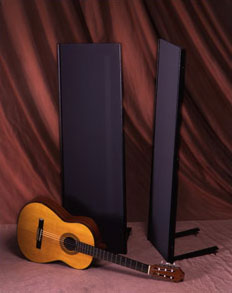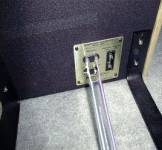 As Dick Olsher of Stereophile magazine asserts, The impossible problem for a conventional speaker, then, is this: how to convince you it's a grand piano when the instrument's full acoustic power is being squeezed through an 8" woofer. When I close my eyes and try to conjure up an image size, a planar speaker reproduces piano, double-bass, cello and human voice with much more spatial conviction than is possible with a conventional dynamic speaker. It's true--a planar makes a recorded piano sound more like a real piano.
Magnepan is the most successful manufacturer of full-range dipole loudspeakers in the world. Over 200,000 of these speakers have been purchased by audiophiles ... audiophiles such as those taking part in the last speaker survey conducted by Stereophile magazine which revealed more of their readers owned Magneplanars than any other brand, and 99% were satisfied with their purchase.
Because of this success and the economy that comes from manufacturing large numbers of speakers, the Magneplanar MMG at $599 pair is affordable and available to everyone.
We know you may have doubts about an entirely new way of reproducing sound. If you are like most of us, a completely new idea will intrigue you as well as raise questions ... How can a speaker only 3/4 inch thick possibly work?... Is there a downside to this approach?
MMG
Description
2-Way / Quasi-Ribbon Planar-Magnetic
Freq. Resp.
50 - 24 kHz ±3 dB
Rec Power
Read Frequently Asked Questions
Sensitivity
86dB / 500Hz / 2.83v
Impedance
4 Ohm
Dimensions
14.5 x 48 x 1.25
Available in natural or black solid oak trim with off-white, grey or black fabric.
To answer these questions and many more, the Magnepan 60-day satisfaction guarantee is a chance for you to experience first-hand what this new technology can do for your audio/video system in your home---at your leisure.
If you want to climb to an even higher level of performance, you can move up to a better model at a Magneplanar dealer in your area for up to a year. Depending on the model you purchase, you can receive up to full credit from Magnepan for your MMGs.
Order the MMGs from your local dealer
If you haven't already met, we would like to introduce you to the dealer in your area (if you have one).
Order directly from Magnepan by calling 1-800-474-1646 or you have the option to order from your local Magnepan dealer. For customers in the continental United States, terms and conditions are the same from the dealer or from Magnepan---there is no difference.
Save on sales tax? If you order MMGs from Magnepan, you will not pay sales tax. If you order MMGs from your dealer, you will not pay shipping. It comes out about the same.
Speed of delivery or return policy? It makes no difference.
Delivery to your home or business? Yes, if you order the MMGs from your dealer, the speakers will be shipped to where you specify.
Magnepan dealers are independent businesses and are not required to participate in this program.
Reviews--
http://www.beststuff.com/audiovideo/audio-appetizers.html
MMG consumer reviews (Note this is an independent website and not controlled by Magnepan. This is not one of those phony review sites. Opinions will vary, but they are free and uncensored.)